Register:
If you are ready to register,
click here to pick a session
, then click on the Register button, select the number of participants in the desired program (Merit Badges, Brownsea Island, Fish Camp, Spade Ranch Adventure 14+, etc) then click Register. Insert information as instructed.
Session 5
STARTS: June 28
ENDS: July 4
Session 6
STARTS: July 5
ENDS: July 11
Session 7
STARTS: July 12
ENDS: July 18
Session 8
STARTS: July 19
ENDS: July 25
Fast Track is a great way for a Scout to go to camp on their own, for one or multiple weeks
How would you like to go to Scout Summer Camp as often as you'd like? At Scouting's Camp Geronimo you can do just that!
Presented by the Grand Canyon Council, the Fast Track program is what some folks call "provisional scouting" meaning that you can attend any week at summer camp (based on availability) on your own.
This is ideal for a scout who doesn't have a troop going to camp, or is planning to be at camp with his or her own troop for a week, but wants to add more weeks of scouting camp.
We will match you up with other Fast Track scouts, in a special Fast Track troop in camp, or have you be hosted by another Troop. Either way it's a great way to enjoy all of the camp activities, fulfill your rank requirements, and complete merit badges – for multiple weeks!
Our Fast Track program is ideal for that "Super Scout" who is looking for a better way to move along the trail to Eagle Scout!
One of the best scout summer camps in the United States is Camp Geronimo based in the cool pine country of northern Arizona, near Payson.
For the first time ever, Camp Geronimo presents their "Fast Track" program. Scout or non-scout, the "Fast Track" program allows anyone to join in on the Camp Geronimo experience without limits.
This means you can participate in any activity you want as much as you want. Horseback riding, hiking or shooting, experience Camp Geronimo to the fullest!
Important Forms, Documents, and Maps
Forms added to address Covid-19 Camp Adjustments:
Sean McComb
Camp Director
Shea Delano
Assistant Camp Director
Steve Munoz
Assistant Camp Director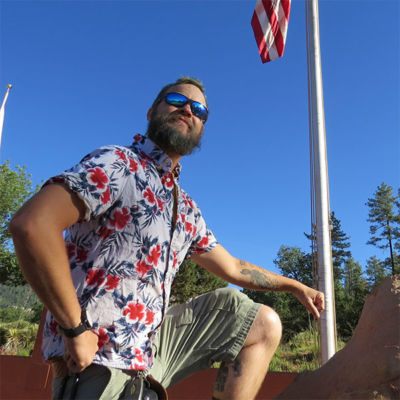 Alan Chambers
Assistant Camp Director
Gerry Hahn
Camp Commissioner
Chris Grosjean
Camp Commissioner
Frequently Asked Questions
Video: Camp Geronimo Scout Camp