COVID-19 Safety
Your safety and the safety of all our members, volunteers, and employees is the Grand Canyon Council's top priority. Click here to review Camp Geronimo's COVID-19 safety information.
Welcome to Camp Geronimo! This page is your crash course to Camp Geronimo. Following the steps below, any parent or leader can review our Leaders' Guide, discover our diverse range of programs, and take their first steps towards a summer of fun!
Steps for Summer Camp
Brownsea Island – For brand new Scouts who are on the trail to First Class Rank.
Geronimo Base Camp – The traditional summer camp experience, with a variety of merit badge options!
Fish Camp – Scouts aged 13+ spend a week with Certified Anglers and Trout Unlimited experts mastering the art of fishing.
Spade Ranch High Adventure – Scouts 13.5+ spend a week on high adventure activites like caving, ATV, canyoneering, mountain biking, and rock climbing.
Register:
If you are ready to register,
click here to pick a session
, then click on the Register button, select the number of participants in the desired program (Merit Badges, Brownsea Island, Fish Camp, Spade Ranch Adventure 14+, etc) then click Register. Insert information as instructed.
Price Information
Click here to review program total fees, payment schedule, and individual payment deadlines.
Select a Session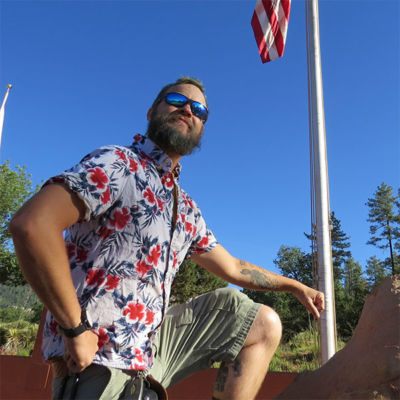 Alan Chambers
Camp Director
Brendan Switts
Program Director
Gerry Hahn
Camp Commissioner
Chris Grosjean
Camp Commissioner
Frequently Asked Questions
The Spade Ranch Guide will be released with the Geronimo Leaders Guide.
Big G Award requirements are located in the Leaders Guide.
Brownsea Island is a standalone program, separate from the traditional merit badge program. Brownsea Island is focused on first year Scouters and introductory lessons and merit badges.